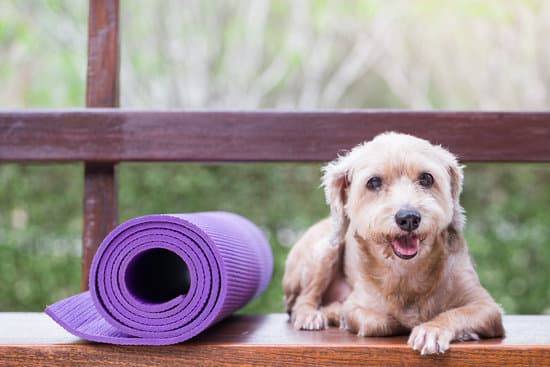 ---

---
These Doglates style exercises can help strengthen your dog's core muscles, improve his emotional well-being, and even alleviate or prevent certain health issues.
If you want to strengthen your dog's body, balance his emotional health, or just have fun with him, Doglates might be the answer, and it's fast becoming a popular activity for pooch parents. In this article, we'll discuss why doga is beneficial.
---
Fitness guru, Joseph Pilates, developed Pilates for humans by focusing on "core" muscles, including the abdominal muscles around the lower back, hips, pelvic area, and buttocks. All these support the trunk of the body. As the name suggests, Doglates involves Pilates-type exercises that have been adapted to canines.
"Many of these exercises involve common commands that you might ordinarily teach your dog, such as sit, stand, down-then stand, high five, turn around, or bow," says Sherri CappaBianca of Rocky's Retreat Canine Health and Fitness Center. "By using these commands when the dog is on surfaces at different heights, or on unstable surfaces like wobble boards or Pilates balls, you are, in my opinion, considered to be doing 'dog Pilates'.
"The reason for this is because when a dog is on unstable surfaces or those of differing heights, he has to work all his core muscles to balance himself. Five to ten minutes of Pilates exercise can really tire a dog out, and it burns a lot of calories! It's a great way to keep virtually any dog in shape, but especially athletic or performance dogs. It can help prevent injuries that regularly occur while performing."
---
Kristie Swan offers a Pilates-style class for dogs at Whiskers University. "I added this class to the curriculum because of the wonderful results I saw with my Chesapeake Bay retriever, who had mild dysplasia in her left hip," she explains. "I began proactive physical therapy with her, which included a lot of core and rear muscle strengthening. Three years later, the orthopedic vet said she had only very slight laxity on the left side."
Kristie agrees with Sherri that any physically active canine can benefit from Doglates. "Any dog that runs or jumps should have a strong core, as well as a strong and limber body," she says. "I see runners out with their dogs and I want to stop them and ask if they stretch or do any other form of protective physical therapy for their dogs. A blown ACL or other injuries can be painful, expensive, and time-consuming, but teaching a dog Pilates-like stretches and ball work can protect against injury. Also, having gone through old age with more than one dog, I know how valuable a strong body and rear legs are for elimination."
Doglates is also great for dogs with obesity issues, as well as those with somearthritic problems since it helps improve flexibility and strength. These dogs may begin to feel much better after a few classes.
Even some veterinarians are suggesting that dogs doing Pilates-type exercises can enjoy improved balance and coordination, increased suppleness and flexibility, vastly enhanced range of motion, alleviation of stress and physical tension, and deeper breathing.
"Every dog needs core muscle strength to perform in any athletic endeavor," says veterinarian Dr. David Cox. "It is also very important in older dogs to prevent injury and weakness in the lower back and hind end."
---
Confidence and flexibility
Another advantage to Doglates is that you can do some of the exercises at home as well as at a facility. "The skills that are learned in class can be used in the comfort of your home, so rain or shine, your dog can be exercising, getting stronger and more flexible, and burning calories," says Mindy Cox (Dr. David Cox's wife) of Lucky Dog Sports Club.
"The exercises we do use fitness equipment can help with balance, flexibility, body awareness, increased strength, and better overall health," she adds. "It's perfect for both the canine athlete as well as the couch potato."
Dogs that do Doglates also enjoy an increase in confidence. "When dogs experience something new in a safe environment and succeed at it, it builds confidence,"
Mindy says. "People see that new confidence, and it encourages them to do more with their dogs. It's great for almost any dog who is healthy, or has clearance from his or her veterinarian."
---
---
Help a dog's balance and core body strength

Calm stressed or aggressive canines

Boost confidence in shy dogs

Help degenerative conditions like arthritis and hip dysplasia

Improve a dog's range of motion

Assist with injury prevention and rehabilitation

Increase positive energy

Increase tone and length of muscles

Strengthen abdominal muscle

Provide mental stimulation and fun
---
Good for emotional well-being
Doglates is also very effective in combating canine depression and stress, and helps with aggression as well. "We've worked with a couple of aggressive dogs, and have seen results in about six weeks, working with them two to three times a week," says Sherri. "Pilates-type exercises are very mentally stimulating because dogs have to focus so intently on what they're doing, just to stay on the ball or wobble board. These exercises definitely boost confidence, so they will also help fearful dogs."
"Since Doglates is physically and mentally demanding, dogs get tired and settle down very quickly," Sherri continues. "Any time you give your dog high-quality exercise like this, I believe you can relieve stress. Humans get a high after a good workout, and dogs experience the same thing. I believe this is part of what relieves stress and ultimately changes behavior. And because you're directing and helping your dog through an exercise program, you're strengthening the bond between you."
Most dogs enjoy Doglates, according to Mindy. "My own dogs love to do the exercises and use the equipment," she says. "I have high drive and high energy dogs, and after a fitness session, they are all tired and content, so it's a great energy burner!"
---
A growing number of canine sports facilities and wellness centers are offering forms of Doglates. Kristie recommends looking for an instructor who knows how to evaluate the canine body. "For example, my instructor at Whiskers University is a certified canine rehabilitation specialist and masseuse."
"Before starting, check with your veterinarian," she advises. "If your dog has an issue such as a luxating patella, special considerations and exercises may be necessary."
Dogs who have never done this form of exercise before should not be pushed. "Start slow and build up," Kristie recommends. "The balls don't come into play until each dog is evaluated and floor exercises have been taught – usually partway through the second class for us. During the first class, people are taught about their dogs' individual physicality (as well as canine structure in general) and how to do stretches – what to watch out for and how to adjust."
As an exercise/conditioning program, Pilates is as good for dogs as it is for us. It focuses on strengthening the core muscle groups to help with balance and conditioning. Through the use of various types of equipment, your dog will improve his balance, body awareness, flexibility, and muscle strength. He'll learn new skills and burn off calories, all while having fun. Doglates can provide mental stimulation as well as physical activity and that's a combination that can't be beaten!
---
For More Articles Check Out
---

Claudia Bensimoun
Claudia Bensimoun is a freelance journalist and author, and specializes in veterinary content, and eBooks. She's a long-time feature writer for Animal Wellness magazine, Fido Friendly magazine, and the United States Dog Agility Association. In addition, Bensimoun has written for numerous pet websites, magazines, newspapers and online publications. Her interests include wildlife conservation, animal welfare, disaster/humanitarian relief, veterinary research, and veganism.
---